How It Works:
Each VPS behaves exactly like an isolated stand-alone server:
Each will have its own processes, users, files and provides full root access.
Each has its own IP addresses, port numbers, tables, filtering and routing rules.
Each could have its own configuration files for the system and application software.
Each could have its own versions of system libraries or modify existing ones.
Each could delete, add, modify any file, including files in /root, and install its own application software or custom configure/modify root application software.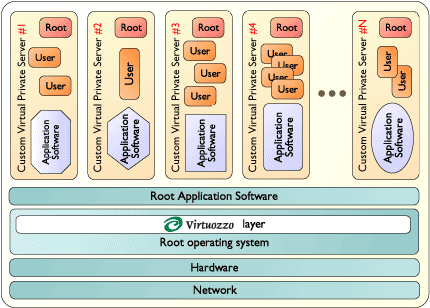 VPS's offer Quality of Service guarantees standard shared hosting can not:
Resource Guarantees: Includes CPU, disk space and network guarantees.
Guarantees on memory - user and kernel, physical and virtual .
Guarantees on disk I/O and many other critical resources.
Performance Isolation - heavy traffic and CPU load on one Private Server will not have a negative effect on the other Private Servers.
Functional Isolation - each Private Server has its own set of applications and services.
Fault Isolation - errors created on Private Server will not affect other Private Servers. For example, a bad CGI script can crash a server, but only the Private Server with the script will be affected.
Address Isolation - each Private Server has its own set of IP addresses.